Wedding Series: Wedding Cake Edition
Welcome back to the fourth part of our Wedding Series… the Wedding Cake Edition! If you haven't already, make sure to check out last week's Wedding Centerpiece Edition.
Who doesn't love cake? It's the one of the most memorable moments when the cake is pulled out for the couple to cut, and a beautiful cake adorned with flowers always takes our breath away. Here we've rounded up some of our favorite wedding cake floral designs.
We love a cascading floral number. This one is really eye popping with the different sizes and colors of roses as it cascades down the this lovely 5-tiered wedding cake. Talk about dramatic and breathtaking!
Sometimes a few floral adornments is all that's needed to tie together the wedding cake and the wedding bouquets. The lavender icing already lends itself well to the bouquet, but the finishing touch of roses makes the connection to the bouquets stronger.
There are moments when less is more, and in this case, that was true. We had already decorated the wedding cake table with bouquets and flower petals, so all that was needed on this wedding cake was small accents.
What better way to bridge together the cake and the table showcasing the cake than by coordinating the colors. Top it off with some simple orchids and we couldn't be more excited how lovely the floral accents lended themselves.
When it comes to creating a soft and romantic look and feel, we love pastels and baby's breath. The flowers placed on this 5-tiered wedding were less about standing out and more about complimenting and blending in.
And then there are moments when you want the flowers to stand out, which is exactly what we did here. The simple design on this 3-tiered cake was screaming for a pop of color, and we wanted to make sure we delivered.
This lovely 4-tiered cake had such intricate piping that we wanted to make sure we didn't take away from it. We also knew that there needed to be a pop of color to draw the attention of wedding guests, so we scattered roses and dusty miller sparsely around the wedding cake.
Going back to our less is more theme, the small bunches of flowers on this wedding cake helped add a bit of sophistication and color. We always scattered rose petals on the table to create a more romantic feel.
Precious Moments cake topper figurines are so lovely, and we wanted to draw people's eyes to this lovely wedding cake. These bright roses did just that, creating a staircase to the cake topper.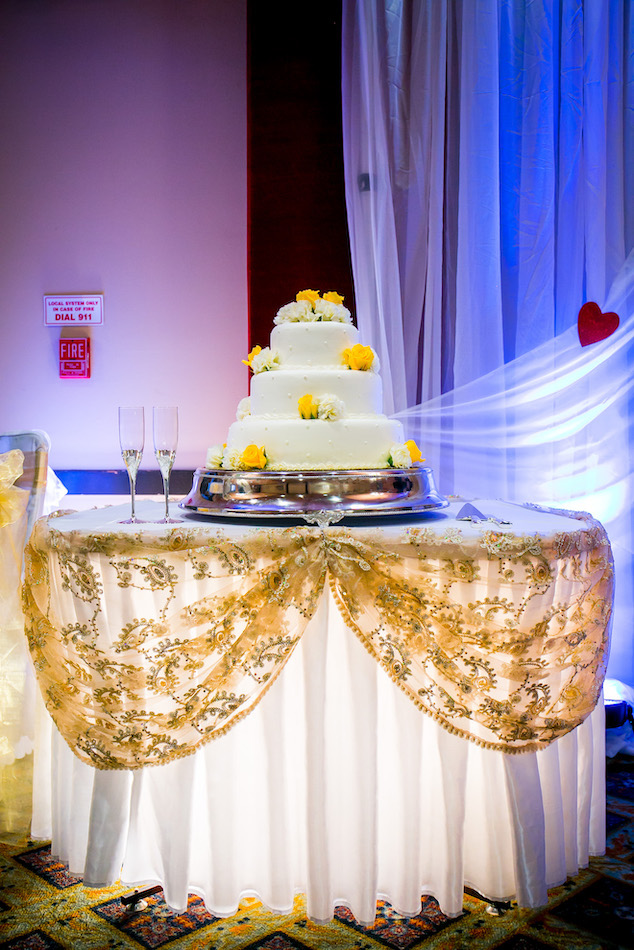 Finally, we wanted to showcase simplicity at its finest. This wedding cake and cake table didn't need much, and the small hints of color made sure to complement the subtle piping on this 3-tiered cake.
And there we have it! Wedding cakes and floral arrangements in all different styles and forms. Who else wants to dig into these cakes to see what flavors our wedding couple chose? I sure do!

Don't forget to tune in next week for part five of our Wedding Series… the Wedding Backdrop Edition!